Christian Horner offers explanation for Red Bull's 'confusing' performance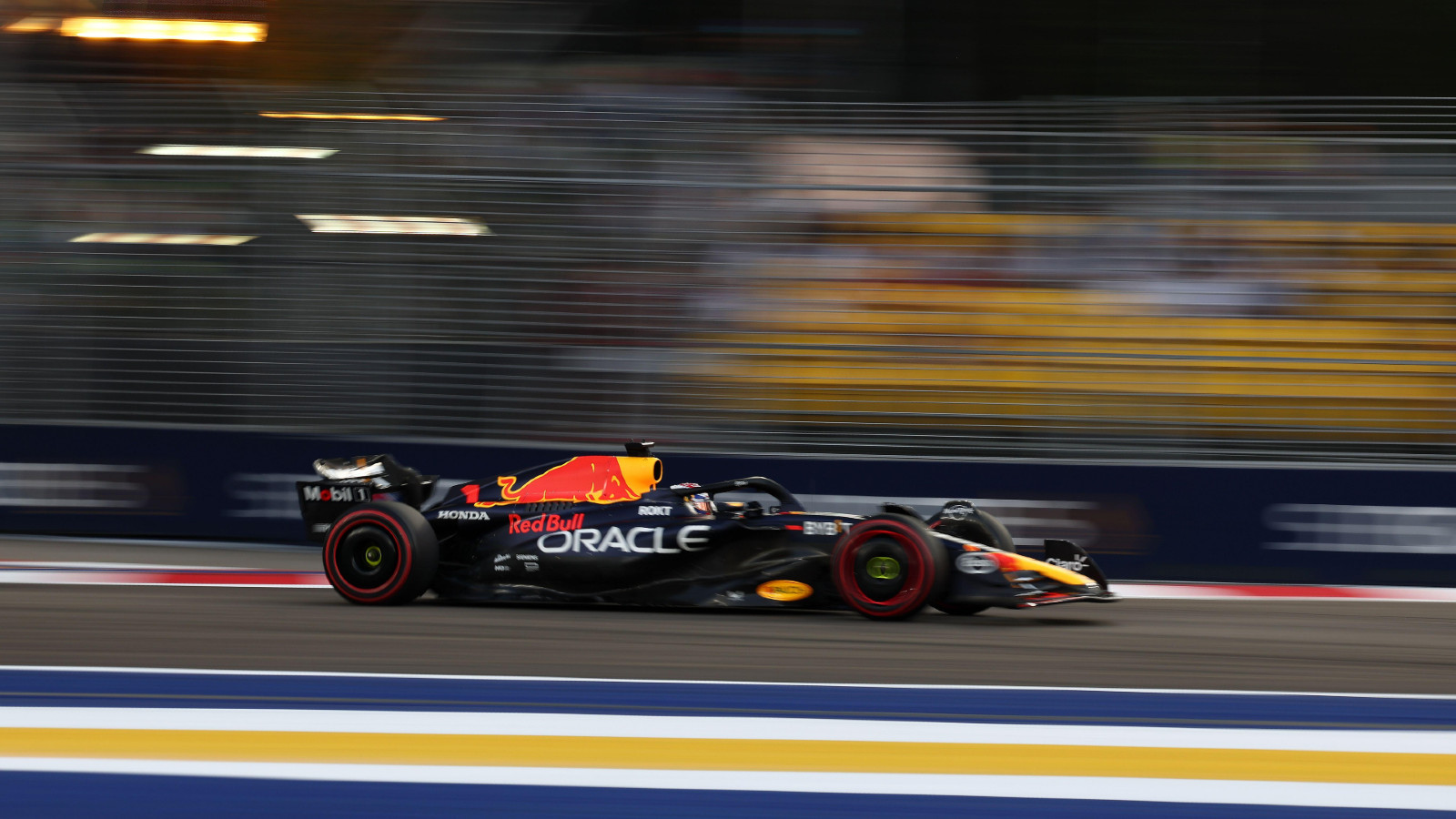 Christian Horner has tried to offer an explanation as to why Red Bull failed to get either of their cars into Q3 in qualifying for the Singapore Grand Prix.
With both Red Bull drivers knocked out in Q2 in qualifying for the Singapore Grand Prix, team boss Christian Horner has admitted the neither RB19 was ever in the correct operating window and poured cold water on the suggestion that a recent technical directive has scuppered their pace.
The reigning World Champions, having won every race so far this year, face a huge challenge to continue their streak this weekend, with both drivers starting in the lower half of the grid – Max Verstappen's current 11th place grid slot under threat due to a looming stewards' investigation for alleged impeding.
Christian Horner: It just isn't happening with the RB19 this weekend
Speaking to Sky F1 following the session, Horner tried to put a brave face on his team's underperformance this weekend, admitting the RB19 has not been a compliant machine in Singapore.
"Yeah, it's very, very confusing to have dropped the amount of pace that we have," he said.
"The car is just not responding to changes, you can hear this understeer, oversteer, braking issues – it's like we haven't managed to get the tyre into the right working window.
"Usually when you see a gap that big is because the tyre just isn't fundamentally working now. We've tried different things with setup, we've tried different preparations, and it's just not happening.
"So a lot for us to understand tonight to try and turn around and it's obviously very, very tough for us to make good progress from those grid positions tomorrow, but we'll certainly be trying very hard."
With the FIA introducing a new technical directive, TD018, aimed at addressing flexibility of aerodynamic components, the change of pace for Red Bull could be seen as being in direct response to that change, but Horner denied the RB19 has had to be tweaked in any meaningful fashion to conform with the TD.
"The car we have here for qualifying is essentially the identical car that we had two weeks ago in Monza and a week before that at Zandvoort," he said.
"[It's nothing to do with the technical directive], nothing has changed on the car. We tried a new aero part on Friday, and we reverted on that component, so it's a tried and tested setup that we have. But it just hasn't responded on this circuit, on this asphalt, trying to get the tyres to get into the window, it's been very, very hard for both drivers.
"We'll see tomorrow, we won't give up on anything but, starting outside the top 10 at a track that's really hard to overtake, we've got quite a lot on."
PlanetF1.com recommends
F1 team principals' rich list: Net worth figures revealed for Wolff, Horner and more
Max Verstappen car collection: What supercars does the F1 World Champion own?
Christian Horner: Red Bull gear shifts had improved
With Verstappen spending FP3 complaining about harsh up and downshifts on his Red Bull, Horner explained that the issue had been largely rectified for qualifying, but that the pace simply didn't come with it.
"The downshifts were a lot better for Max, they tuned the software and they seemed to be working much better," he said.
"Q1, he goes to the top of the time sheets after the first run and then, thereafter really, once he got into Q2, the car was bottoming, the drivers were unhappy and there were issues that we hadn't had in that in that first session. We were completely, completely out of the window."
Asked what Red Bull will do in response to the session, given they are in parc ferme conditions and can't make any changes without triggering a mandatory pitlane start, Horner said: "First of all, we've got to put the disappointment behind us. Focus on… there's a reason behind everything, is to try and understand what's causing the lack of performance today. Obviously, we're limited on what we can do for tomorrow.
"Maybe some rain around as well, Safety Cars, you just don't know. We'll keep fighting all the way to the end. But this weekend, certainly throwing up some challenges so far."
Read Next:Singapore Grand Prix: Carlos Sainz on pole as Red Bull implode