Winners and losers from the 2023 Singapore Grand Prix qualifying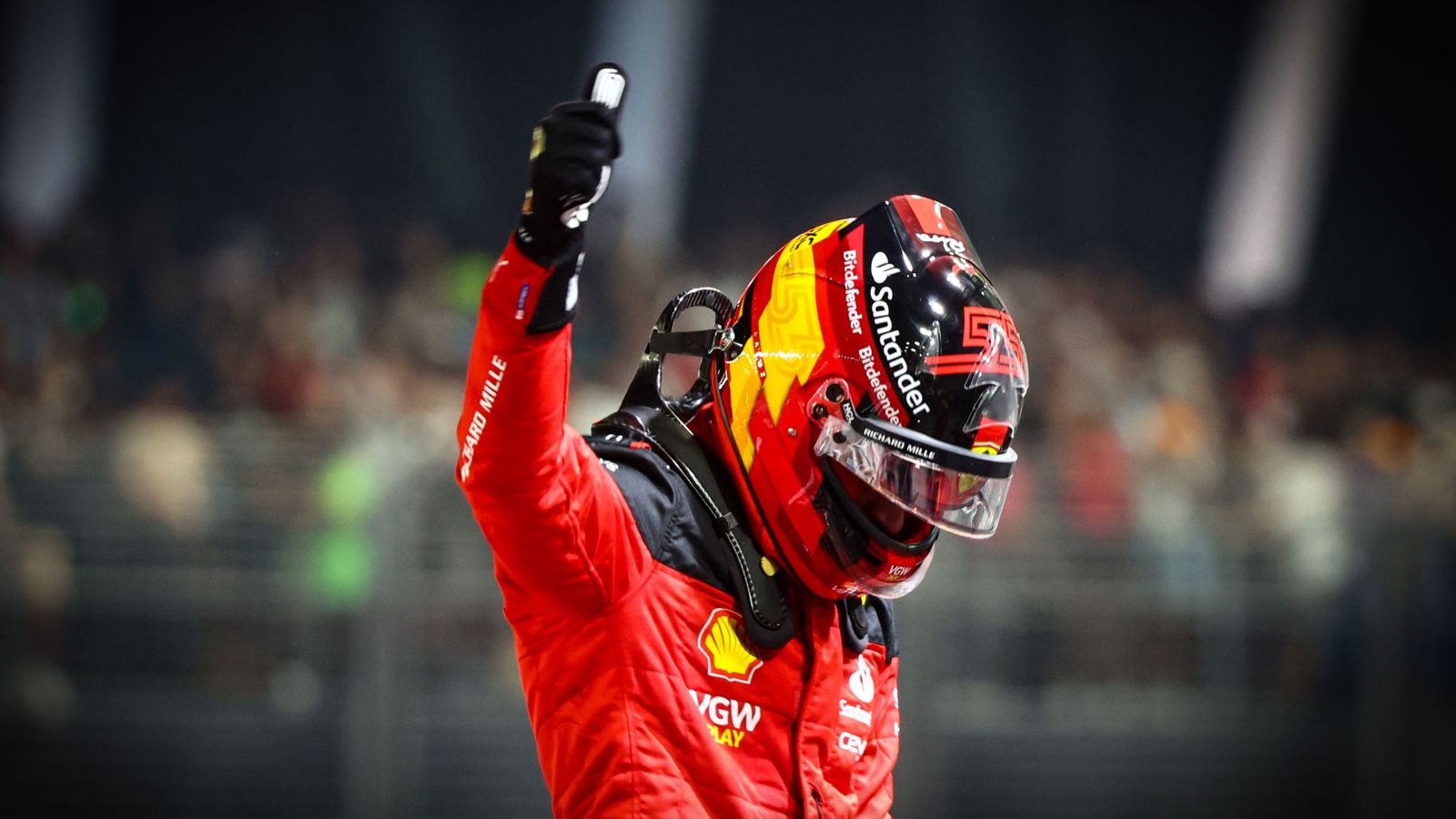 Carlos Sainz secured his second successive pole position for Ferrari, but the struggles of Red Bull and Max Verstappen were the main story at the end of 2023 Singapore Grand Prix qualifying.
The winner of the last 10 races, Verstappen will start well down the order on Sunday after a disastrous qualifying session as Red Bull's irresistible 2023 pace mysteriously deserted them at Marina Bay.
Here are the main winners and losers from qualifying…
Winners
Carlos Sainz/Ferrari
Having followed up pole for Ferrari at Monza with another here – in the same car as Singapore specialist Charles Leclerc – these are the greatest days of Carlos Sainz's Formula 1 career.
The win may have escaped his grasp in Italy two weeks ago, but he came away from that weekend with huge credit – widely praised for the guts, the heart he had shown in the face of what turned out to be an inevitable defeat.
The Singapore layout, with its mix of slow, 90-degree corners and straights, is almost ideally suited to the 2023 Ferrari.
And with the old under-the-grandstand Marina section replaced by an additional flat-out blast for this year, providing yet more runway for arguably the most powerful engine in F1 to express itself, it was enough to tip this track decisively in Ferrari's favour.
Who would have thought that, at a Singapore GP where Ferrari were fastest, it would be Sainz and not Leclerc on pole?
That tells us as much about Carlos – and the confidence at which he is currently operating – as it does about Charles.
George Russell
The last non-Red Bull driver to win a grand prix? George Russell.
Starting from second and with Mercedes invariably stronger in race conditions, is there a chance that he could repeat his Brazil 2022 heroics on Sunday?
After some difficult races, the challenges of the Singapore circuit saw Russell return to his committed, brave best – his final Q3 lap putting Lewis Hamilton, the slowest of the leading group by quite an alarming margin, to shame.
Ferrari have pole and the straight-line speed to make Sainz and Leclerc fearsome in a racing situation, but Russell will fancy his chances from second on the grid.
Expect him to go for any opportunity that presents itself on that opening lap – and to hell with the consequences.
Haas
Haas admitted after Alex Albon's points finish at Monza that any hope of catching Williams for seventh place in the Constructors' standings had gone.
Reservations over the VF-23's race pace remain, but don't be so sure with Kevin Magnussen and Nico Hulkenberg sixth and ninth on the grid respectively and the team preparing to welcome a Red Bull-inspired B-spec car in Austin next month.
Even if the race itself ultimately comes to nothing, this was a reminder – amid accusations that Haas's driver lineup is uninspiring, unimaginative, even boring – of what Magnussen and Hulkenberg are capable of with the right machinery.
Both are racing drivers in the purest sense.
Liam Lawson
Sport has a habit of delivering great stories and the one featuring Liam Lawson – the Red Bull junior in just his third appearance knocking Red Bull's reigning double World Champion out of qualifying – was simply irresistible.
With Lawson making clear his determination to secure a full-time AlphaTauri drive for 2024, the circumstances of his maiden Q3 appearance had the feel of a signature moment.
PlanetF1.com recommends
F1 2023: Head-to-head qualifying and race stats between team-mates
Train like an F1 driver: An eye-opening experience into the insane fitness levels
So impressive has he been in his first few weeks as an F1 driver that he should now be regarded as AlphaTauri's first choice for 2024.
Take your pick between Yuki Tsunoda and Daniel Ricciardo for the other seat…
Losers
Max Verstappen/Red Bull
With Verstappen and Red Bull now staring down the barrel of the team's first defeat in 10 whole months, how to explain their wretched performance this weekend?
It would be far too simplistic to joint the dots and suggest the new technical directive in place here has been enough to cut Red Bull off at the knees, much as it would be ludicrous to point to the revised track layout in Singapore as the root of all their ills.
Instead, perhaps it comes down to the most important phrase in modern F1: aero efficiency.
When the teams design their cars for a new season, they approach it with the simple aim of building the fastest possible car for the widest selection of tracks across the spread of the season. And it stands to reason that there are vastly more circuits of the nature of Spa and Silverstone on the F1 calendar than of Marina Bay and Monaco.
As such, these races become ones to be endured to some extent, accepting that their normal advantage over the opposition will be significantly reduced or even completely obliterated.
Look back, for instance, at just how deep Verstappen had to dig to resist the advances of Fernando Alonso in Monaco qualifying back in May.
,这仅仅是一个巧合,红牛的perfect season has suddenly just become a lot less perfect in Singapore, the scene of Mercedes' rocky horror show in 2015?
What complicates matters this time, of course, is that by their own admission the prospect of an 'invincible season' was just starting to zoom into view for Red Bull.
Helmut Marko was quoted as saying ahead of Singapore that if the team could just find a way to get through this weekend unscathed, winning every single race in 2023 would become a very real possibility.
Yet with that historic achievement beckoning comes a certain pressure. And when a team has become so accustomed to operating at a level of such excellence, it can create a magnified sense of uncertainty when something does go wrong: one mistake breeds another and then another until, all of a sudden, Verstappen has three separate impeding investigations hanging over him.
Exactly like Mercedes here in 2015, the team who could do no wrong suddenly can't do right for doing wrong.
Fascinating – from both an engineering and psychological perspective.
Sergio Perez
Much of the focus of Red Bull's failures will inevitably fall on Verstappen, but Sergio Perez does not escape here unscathed either.
If Verstappen had at least shown flashes in moments prior to his Q2 exit, his team-mate – the winner here in tricky conditions last year, remember – has been a passenger all weekend, classified no higher than seventh in the three practice sessions.
He has now failed to reach Q3 at seven of the 15 qualifying sessions in 2023.
If a midfield grid spot has become alien territory to Max these days, Checo must almost feel at home in P13.
Lance Stroll
Motor racing cannot simply be a rich kid's hobby. It is a fundamentally dangerous sport with the capacity to bite. Hard.
As scrutiny over his Aston Martin seat grows, how might this big hit – by far the biggest of his F1 career to date – affect Lance Stroll's will to continue?
A punishing season took a more serious turn when he ran wide at the final corner, touched the kerb on the outside and overcorrected, spearing him into the barrier.
With his true commitment to F1 often questioned, if he really has had doubts about continuing to race on a dice with danger might just crystallise those niggling thoughts.
Read next:Christian Horner offers explanation for Red Bull's 'confusing' performance