Life after F1: Inside the home of Memento Exclusives and F1 Authentics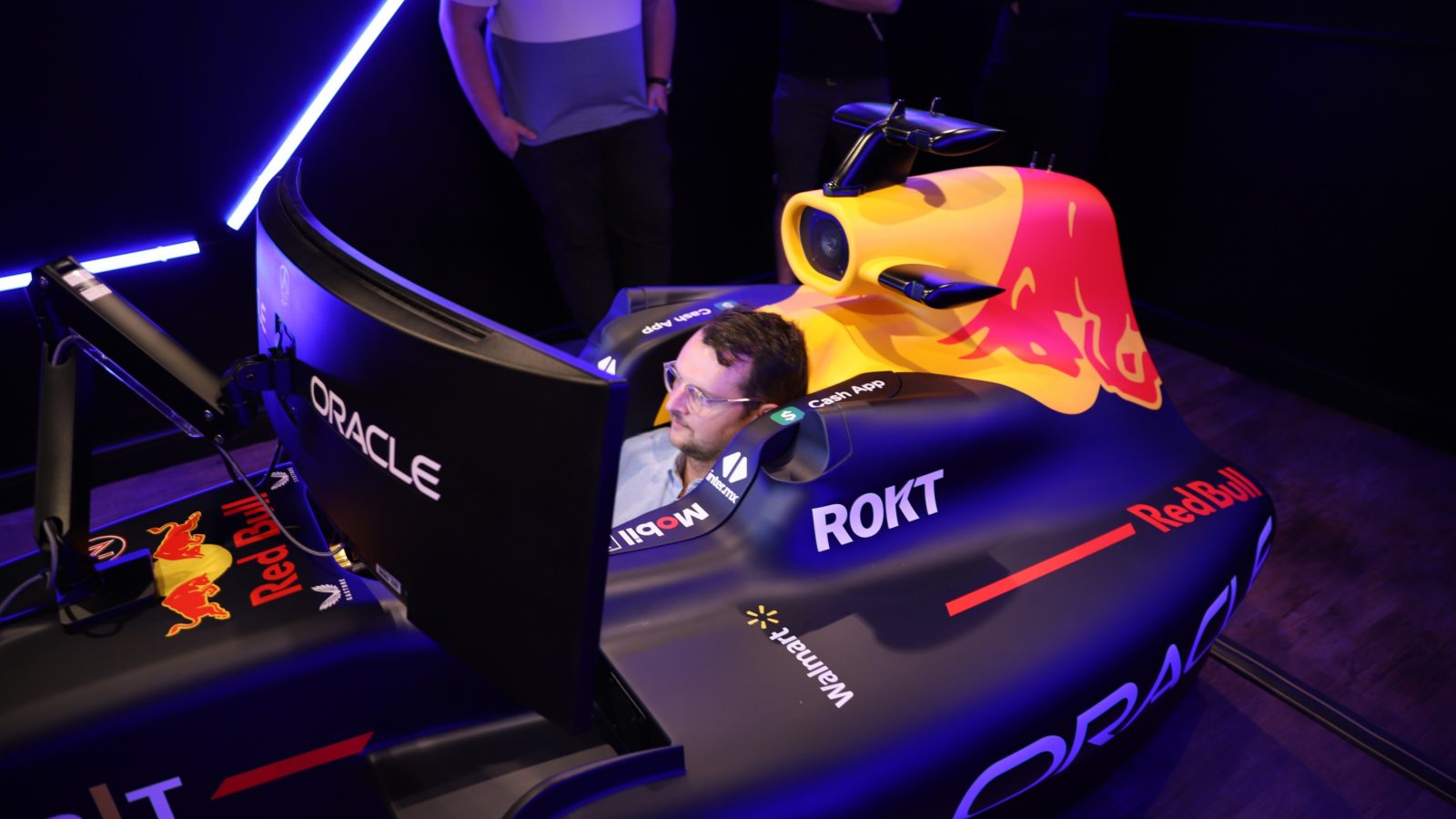 Have you ever wondered what happens to an F1 car after it has raced its last grand prix?
If you were to put all the bits and pieces that have gone into the sport these last 73 seasons it would resemble something not too dissimilar from the warehouse at the end ofRaiders of the Lost Ark. For while players of other sports will go off to live their golf-filled retirement, the post-career life of a Formula 1 car is less defined.
For a long time, the cars were deconstructed and destroyed save the few that made their way into private collections. Team kit was burnt and any sentimental value that may have been attached to these items was destroyed inside an incinerator.
These days, the story is different. Memorabilia is not something overly familiar to a European audience but ask those on the other side of the Atlantic and baseballs, trading cards, footballs and other items will have been given pride of place on the wall of their childhood home.
It would take someone with both experience in F1 and in North America to realise the potential that was waiting to be harnessed.
Barry Gough started his F1 career in 1994 working as a number two mechanic at Simtek F1 in a role that would see him rub shoulders with David Brabham and Jos Verstappen. In 1996, he moved over to the US to Hall Racing in the ChampCar series before returning to F1 at Honda in 1998.
While at Honda, where he worked on Jacques Viilenueve's car for three years, Gough noticed the sheer amount of waste that the sport produced and the early ideas for a business began.
"When I worked in F1, a long time ago, there was so much waste," he told PlanetF1.com. "In those days we had like 10 chassis, these days teams have only got two chassis.
"So there was definitely a lot more waste in the olden days. Even the team kit used to get burned at the end of the season or shredded.
"That's just criminal, isn't it? Why would you do that?"
Influenced by his time in America, Gough realised that one person's old team kit is another's fabled antique so at the end of the season, he began to buy the redundant clothing and set up his own website.
In the early days, it was not an easy task with Formula 1 teams showing a healthy pessimism to new ventures but as is often the case, once one team takes the plunge, the rest soon follow.
"There were difficult conversations at first," Gough said. "I knew what we wanted as a business but most of the teams weren't interested. A lot of old school mentality in Formula 1 and that is changing.
"A lot of different people coming in, a lot of younger people coming in. A few more American people are coming who understand memorabilia.
"我们做的第一许可证协议团队佤邦s with Lotus but I remember presenting five or six times to them. There was one lady there that understood us and believed in us.
"So we did that contract and then they just gave us so much stuff. I remember we had a little unit at Silverstone and when they delivered all of the freight boxes, it filled up our place. We had to make corridors to actually move the toilets and into the office. It was like Christmas.
"That made it a bit easier to then have discussions because they believed in us.
"But I think one of the hardest contracts was with Mercedes. It took seven years to get a contract with those guys.
"It's still not easy. Not all the teams have contracts, different terms for different teams. Some teams won't give us race-worn suits. Every team is different. I would like to say it's getting easier, but it's not there."

Gone are the days of cramped storage units and these days Memento Exclusives store more than just clothing. Their base is on the outskirts of Northampton, close to the Silverstone circuit but on arrival you may be forgiven for thinking you had pulled up at a farm. A typical English cottage stands before multiple large warehouses and the reason they look like cow sheds? Because that's exactly what they once were.
While some of the units are still occupied by farmers, the majority have been bought by the Memento team and considering how much stock they receive, it is understandable why they need this much space. Today they announced a deal with Williams meaning it is now just a certain team in red that they are yet to partner with but given the proximity to Silverstone, it is no surprise to see which team dominates their stock reserves.
The so-called Treasure Trove is a warehouse at the very end of the lot and opening the door reveals no end to a number of car parts. An Aston Martin front wing, Force India sidepods, a four wheel buggy that belonged to BMW Sauber – it is almost too much to take in. An engine cover from the chrome-era McLaren is picked out from a shelf at the far back of the warehouse while a floor demonstrating just how large F1 cars are sits up against the wall.
This warehouse is very much the starting point for cars after F1. Memento found early on that while selling parts as they are was an option, another avenue was to repurpose them and thus the famous wheel rim table was born.
For anyone who thinks of F1 parts turned into furniture, it is most often the table they refer to and the idea began with a collaboration between Memento and Mercedes. Since then this particular genre has exploded meaning you can now get coffee tables with front wings under them, gears that double as lights and just about anything else you can imagine.

And it is someone's job to do just that. The design office is like a F1 version of Willy Wonka's Chocolate Factory with prototypes and designs scattered about as the company creates new and interesting ways to turn former car parts into household items.
While plenty of the items come with a healthy splash of creativity, there are others that are more conventional. Bodywork is cut up into small rectangles before being placed into acrylic, mini helmets are signed by the drivers and during the time of our tour, Lando Norris' signed white race suit from the British GP was being readied for auction.
But all of this would not be possible if not for the huge demand Memento is enjoying right now.
"I think COVID helped us as a business understand where we wanted to go," Gough continues.
"When we launched F1 Authentics in 2019, COVID came with the rewind campaigns and our products related to the rewind campaigns.
"F1 would push us to really concentrate during COVID on the digital side of the business and obviously, Netflix has just exploded in the US market. The US market I think now is about 40% of our sales."
It is unsurprising that Gough is an ambitious man. Asked what his goal was for the next five years and he replied to reach an annual turnover of £100 million but there is one aspect that he thinks will get them there and it lives a few doors down from the Treasure Trove.
While the company specialises in turning already manufactured parts into memorabilia items, they also have a full in-house team to create their own. Memento has signed deals with a number of the teams to create their show cars meaning that if you have stumbled across an F1 car in the wild in recent years, chances are it was made inside these walls.
Having visited a few F1 factories in the past, the similarities between the operation here and the real thing are remarkable. Half-jokingly describing themselves as the sport's 11th team (or 12th behind Brad Pitt's), the team will follow the same process as the real constructors albeit with slightly less desire to make it as light as possible.
Carbon fibre is used throughout with some teams supplying designs as to how best to construct their car. A number of Alfa Romeo and Aston Martin cars line the workshop with a few Red Bulls in there too. Sergio Perez's final Racing Point complete with 'Thank you Checo!' written on the side was present and at the time of the visit, a livery-free McLaren was being loaded into a truck for the trip south down to the MTC.
These cars are not just for companies either with private individuals also able to buy one. £200k will get you this year's Alfa, £110k will get you Lewis Hamilton's MP4-22 and the turnaround to make a show car in just four weeks, provided Memento have the time to fit you in their busy schedule.

"We want to get our platform to sell more race cars," Gough said. "Ex-race cars, running race cars. One of the targets in the next couple of years is to sell a car on that for a million pounds plus."
But the cherry on top of this very luxurious cake lives in the garage of the cottage by the main gate. The world of F1 esports has exploded almost in tandem with the sport itself and while creators and professionals will spend several thousands of pounds on their set-up, that figure will still not come close to what Memento can offer.
今年早些时候,再保险d Bull unveiled an RB19-shaped simulator for those looking for the most authentic feel out there. Complete with front wing will cost you £99,999 while the 'cheaper' model is £74,999 and these machines are also built in the Memento HQ. Perhaps the best endorsement for these highest of high end products is that Sergio Perez bought two after trying one out for a sponsor event.
While my lap around Austria (1:10 with some lenient track limit calls) would make Perez wince, driving in the simulator gave a glimpse of what drivers are tasked with during a race weekend, except I was in a cottage in the suburbs of Northampton and not surrounded by 19 other drivers in front of a watching world.
一样与Lotus所有这些年前,再保险d Bull's example is sure to be followed by the other competitors and it is a credit to just how far this company has come. In a sport that is so focused on reducing its carbon footprint, finding a new home for the cars and kit of yesteryear seems like such an obvious idea now that it is surprising no one thought of it sooner.
Read next:Explained: Why Formula 1's flexible bodywork dilemma is here to stay